The Amherst County Service Authority was originally established in the early 1930's, as the Madison Heights Sanitary District. Its function was to provide public water and wastewater services to the southernmost portion of Amherst County. In 1987 the District was reorganized as the Amherst County Service Authority, to supply these services to a broader portion of the County. Additionally, the Authority staff assist the County's Planning Department in reviewing proposed development activities in the County's protected public water supply watershed districts.
Vision
To be an acclaimed and respected leader in providing clean water that fosters public health, enhances quality of life, and economic vitality for our community.
Total # of Residential and Business Connections
Water
Total # of Residential and Business Connections
Wastewater
Values:
Environmental Stewardship
We recognize the responsibility of managing and protecting limited and valuable environmental resources that sustain life. We are committed to satisfying all pertinent regulations to sustain the environment, natural beauty, and health of our community.
Service Excellence
We provide first-class customer service through a highly competent and motivated staff who address our customers with courtesy, respect, and timeliness, understanding the impact our actions have on public health, the quality of life, and economic vitality in our community. We foster customer confidence though honesty and transparency in all communications and educate our customers on activities and issues pertinent to water resources management.
Fiscally Accountable
We manage our funds responsibly and with integrity and believe that our community is best served through continuous improvement and preparation and enhancement initiatives.
Innovation
We advocate for initiatives that support our vision and set a higher criterion for excellence, embracing creativity, ingenuity, advancement, and technology.
Articles Of Incorporation
Click the button below to view the official Articles of Incorporation for the Amherst County Service Authority.
VIEW ARTICLES OF INCORPORATION
ACSA Staff: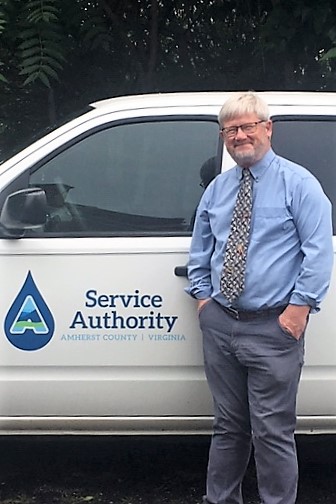 Timothy E. Castillo, Executive Director
PH: 434-845-1605
Email: This email address is being protected from spambots. You need JavaScript enabled to view it.
Support Staff
Richard Hall, Assistant Director | PH: 434-845-1606 | Email: This email address is being protected from spambots. You need JavaScript enabled to view it.
Christopher Cunningham, Operations Manager | PH: 434-384-1979 | Email: This email address is being protected from spambots. You need JavaScript enabled to view it.
Sharlene Haynes, Office Manager | PH: 434-845-1605 | Email: This email address is being protected from spambots. You need JavaScript enabled to view it.
Health Department Report
View the latest Office of Drinking Water System Sanitary Survey Report from the Virginia Department of Health. This survey was conducted on September 20, 2021.
Our Awards